The wonderland amusement park, Abuja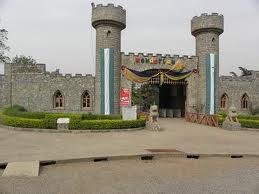 The wonderland amusement park is a sophisticated theme park in the capital city of Nigeria. The park is situated in the hub of Abuja, spread on an area of 330,000 square kilometers.

The amusement park boasts of a number of games rides for you to relax and enjoy. The attractive rides you can find at wonderland are the roller coaster, ocean car, happy worm, bumper cars, Self control plane, Cowboy, fire fighters, Mini wheel, Frog jump, Flying tower, cross country bumper car, pirate ship and much more. All there entertainment rides are suitable for all ages irrespective of the gender.

Arcade
The Fun city arcade is another popular attraction in wonderland. The place is well equipped with lots of entertainment activities. You can try your hands with Bumper Boat, 'Bull Fight', Video games, Basket Ball, etc.

The arcades also possess ample space for conducting annual general meetings and conferences. Likewise you can relax yourself with spicy foods and delicious drinks provided by the food and drinks booths. Some of the yummy food items you can try are Hot Dogs, Corn Dogs, Mini Corn Dogs, Kid's Meal, Wonder Dog, Fries, Chili Cheese Fries and Cheese Fries, Burrito Supreme Burrito, Frito Pie, Tasty Lemonade and Snow-Cones. Coke, Dr. Pepper, Diet Coke, Sprite etc.

Opening hours
From Tuesday to Friday, the amusement park is opened from 2.00pm to 9.00pm
On weekends (Sat, Sundays) the theme park is opened from 10.00am to 10.00pm
The park is closed on Mondays (except for special events, holidays, parties, etc.

Contact
Wonderland Park
Constitution Avenue Abuja, Nigeria
09 780 4000 or The Director on 08059096248



Comments
You must
login
to post comments.