The Malaysia Hindu Sangam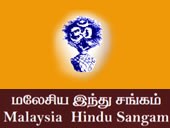 In Malaysia nearly 87% of the Indians are Hindus. Previously in the early sixties the Hindus 'interest and their religious activates were confined within the four walls of the temple. Then need arsied to propagate Hinduism as well as to handle the problems that affect the Malaysian Hindus. Hence a national body called the Malaysia Hindu Sang am was born.
The Malaysia Hindu Sangam can be contacted at the following address
No.67, Jalan PJS 1/48
Taman Petaling Utama 7
46150 Petaling Jaya
Selangor Darul Ehsan, Malaysia
Tel: (+603) 7784 4668 / 7784 4669
Fax: (+603) 7784 7304
Email: [email protected]
Related News
Comments
You must
login
to post comments.