The Base Shopping Mall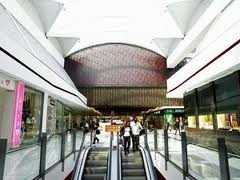 The Base is a big shopping center situated in the Te Rapa semi rural suburb of Hamilton city in New Zealand. At present, "The Base" is considered the biggest shopping mall in the whole of New Zealand.
The Base houses nearly 78 stores spread on a total retail trading area of 49,000 sq.metres. Some of the major tenants in the mall are Bond & Bond, The Warehouse, Briscoes, Farmers, Heathcoate Appliances, a Hoyts Cinema, Rebel Sport, Dress Smart, and Mitre 10 Mega. The only outlet of Waikato is also housed in this mall.
Some of the other renowned stores housed in this shopping center.
Baby city
This well-known store specializes in selling baby products. You can get everything required for your toddlers and infants, right from the baby beds to nappies, baby carriages to dresses, playthings to linen and a wide range of your vital baby essentials, everything can be bought under one umbrella.
The ware house
The biggest department store retailer has opened its outlet in this mall. It sells a variety of products encompassing clothing, books, everyday needs, gardening, furniture Jewellery, homewares, pharmacy, music, electronics, stationery items, gifts, games, health and beauty products, etc.
Postie
This leading fashion brand specializes in kids wear, men and women's wear. Apart from this you can also find the latest lingerie and swimsuit collections, all at affordable rates.
Bond & Bond
This no frills communication and Electronics store offers its clients with electronic appliances and computer goods at reasonable rates.
Smiths
This renowned foot wear stores offers a broad range of generous footwear and trimmings. It specializes in walking, running, football, cross-training, Netball, football and kids shoes. It deals with all main brands like, Asics, Adidas, Mizuno, New Balance, Brooks, Puma, Reebok, Nike, and Hitec.
Some of the other renowned stores in the mall are Scoopys ice-cream parlor, the fitness store, Sushi of Japan, wet & forget subway, north beach, Robert & Harris café, etc.
Opening hours
On Monday to Saturday, from 9.00 am to 6.00 pm
On Sundays, from 10.00 am to 5.00pm
On public holidays the mall is opened from 10.00am to 5.00 pm.
Address
The Base Shopping Centre
1 Pacific Crescent Pukete 3200,
Hamilton, New Zealand
(07) 847 1100

Related News
Comments
You must
login
to post comments.