The adventure Island (Amusement Park)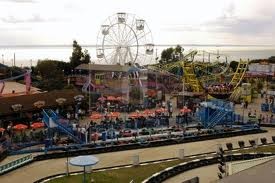 It is an amusement park with free admission. It is located at South end-on-sea at Essex in UK. The park has 33 various kinds of rides, attractions, catering outlets s well as gift shops. The amusements parks' present location borders the Southendpier's north end. Since the year 1976, it has been a fun park.
Presently there are five roller coasters in the park.
A zierer custom designed roller coaster that was constructed in the late 90s is the Green scream. It is an all-round family ride, and does not have any inversions. Even the dros are tamed.
Barnstormer is the second roller coaster which was inaugurated in the year 2000
The third roller coaster is the Mighty Mini Mega, which was opened in the year 2003. The ride is located on the Mega city prize arcade's top.
The fourth and the fifth roller coaster are the Rage ,Kiddi Koasta respectively.
Some of the other foremost rides are the ,
Dragon's Claw, a Tivoli Spin-Out
Archelon, a Zierer Wave Swinger
Big Wheel
Crooked House
Pharaoh's Fury, a Sonacase Twister
Fireball (A Home Built Ride)
Ramba Zamba, a Zamperla Disk-O
Sky Drop, a Zamperla Skydrop
Devil's Creek Gold Mine
Vortex, a Tivoli Orbiter
Sk8borda
Dragon, a Zierer roundabout
Over The Hill (A Home built Dark ride)
Scorpion, a Tivoli Scorpion
Tidal Wave
Time Machine (Home built spinning ride) (Opening 2012)

Contact Address
Adventure Island
Sunken gardens
Western Esplanade
Southend on sea
Essex
SS1 1EE
01702443400
Email enquiries@stockvale.co.uk

Related News
Comments
You must
login
to post comments.