Stephen's Green shopping centre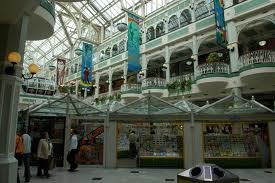 The Stephen's Green shopping centre is the biggest indoor shopping mall situated at Grafton Street, on Dublin's southern side. The shopping center derives its name from an adjacent park.

The shopping center houses more than 100 stores. Boots, GameStop, Dunnes Stores, and TK Maxx are some of the main tenants.

You can find a broad range of retail outlets dealing with kids wear, Jewellery, Computers& accessories, footwear, supermarket, Mens and Womens wear, etc.

Some of the kids' outlets, which you can visit along with your little ones are Dunnes Stores, The Donegal Shop, Tk Maxx, Urban Kids, Mother care, etc.

Stores like Raider, Hat Shop, Bertoni, United Colors of Benetton, Asha, Counter Propaganda, Diffney, Funky Tee, Tk Maxx, Tie Rack, Counter Propaganda, Tribe, Best Menswear, Quicksilver, Dunnes Stores and Unique deals with the Mens fashion needs.

The women can find their latest trendy ladies wear at Swamp, Asha, Funky Tee, Soho Market, Quicksilver, Hat Shop, Tie Rack, Fashion One, The Donegal Shop, Julien, TK Maxx, Twenty 1, Dunnes Stores, United Colors of Benetton.

Stephen's Green shopping centre also boasts of having leading Jewellery shops like Claire's, Timpson, Cherry, Fast Fix, Julien, Argos, Celtic Spirit, Banana Tree and Cactus.

How to get there
Stephen's Green shopping centre is just a stone's throw , a ten minutes stroll from from both Tara Street station and Pearse Station.


Opening hours
The mall is opened on Mon, Tue, Wed from 9am to 7pm
On Thursdays, it is opened from 9am to 9pm.
From 9am to 7pm on Fridays & Saturdays and from 11am to 6pm on Sundays.

Address
Stephen's Green Shopping Centre
Stephens Green West
Dublin 2
Phone +353 (01) 4780888
Fax +353 (01) 4782565
E-Mail info@stephensgreen.com





















































Related News
Comments
You must
login
to post comments.