Silver Sands Beach, Jeddah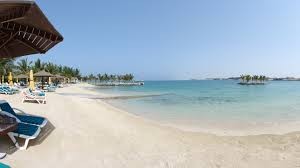 One of the most renowned beach clubs in Jeddah is the Silver Sands Beach. It is located on the Obhur road subsequent to the Abdul Majeed Road. You will find the beach as an exceptional destination to relax and rejuvenate your tired nerves. The lengthy shore line serves for you as an ideal place to take a leisurely stroll. You can also bask under the sun or chill out in the big swimming area. Other activities you can indulge are diving, snorkel, etc. You can also relax under the umbrellas and lounger provided you need to pay an entry fee of SR 150 for the beach. You can also play beach volley ball & football at the well maintained play areas. You also have the convenience of making use of the banana boat, Pedaleau, etc.
There are also a number of restaurant where you can pamper your taste buds with the delicious foods.
Address
Silver Sands beach
North Obhor, Jeddah, Saudi Arabia
Accommodation near Silver Sands Beach
Al Murjan Beach Resort
North Obhur Road,
Jeddah, 21531
Kingdom of Saudi Arabia
+966-12-656 0666
+966-12-656 0555
Hotline+966-562705653
Hotline+966-568758318
E-mail us:
Related News
Comments
You must
login
to post comments.