Shibam
The old walled Shibam is declared as an UNESCO cultural heritage site, due its renowned distinctive architecture. The houses at Shibam are constructed with mud bricks of which 500 of them possess tower houses, which rise to nearly 5 to11 storeys in height.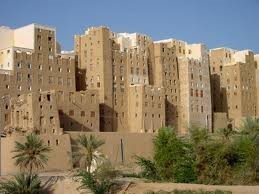 The ancient is often described as the "the ancient skyscraper in the globe "and also as the "Manhattan of the desert. A tourist can see the ancient and finest examples of urban planning that is supported on the vertical construction principles. A visitor can have a glimpse of some of the biggest mud structures in the world, with a few of them raising to more than 30 feet height and is still regarded as the ancient high-rise apartment structures.
The visitor can also visit the Al-Mihdhar mosque, which contains the tallest mud brick minaret in the southern part of the Arabian Peninsula.
Accomodation
Al Hawta Palace Hotel
Address: Wadi Hadhramawt, Seiyun, 9299, Yemen

Related News
Comments
You must
login
to post comments.