Sforza Castle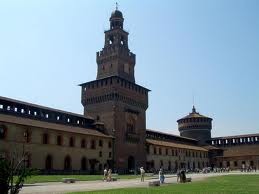 Sforza Castle is a renowned tourist destination in Italy. It is one of Europe's biggest citadels and functioned as the Duchy Mian's reseidence and seat. The 14th century structure served as the sanctuary for eh Sforza family, Milan's noted patron. In the succeeding year, the castle was turned into bad shape and only during the commencement of the last century, the castle was refurbished. At present you can see the castle a blend of appealing structure with attractive grounds.

You can find the Museo d'Arte Antica, a museum inside the castle. You can find several Renaissance and Gothic treasures. You can come across rooms adorned by Leonardo da Vince.

One of the most renowned attractions you can see is Rondanini Pietà work of Michael Angelo, which the artiste was working upon, when he suddenly died.

If you are an admirer of antiques, then do not miss to have a glimpse of Armory in Room XIV (Sala Verde).

Opening hours
The castle was opened everyday from 9:30 am to 5:30 pm.
The museum is closed on Mondays.
Admission tickets
For complete price ticket it is € 3.00
For half price ticket it is € 1.50

Address
Piazza Castello, 3, 20100 Milan, Italy
39-02-884-63700
Public transport:
Underground: MM1 Cadorna, Cairoli - MM2 Cadorna, Lanza
You can travel by Bus routes: 18, 37,50, 94 58,and 61, to reach the museum.
You can travel by Trams: 1, 2, and 4,12,14,19 to reach the museum


Related News
Comments
You must
login
to post comments.