Red Sea Mall, Jeddah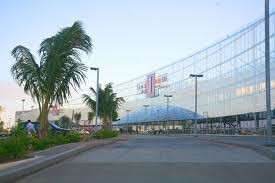 The Red Sea Mall is one of the largest and most popular shopping centers in Saudi Arabia. It is situated in Jeddah on Malik Road's northern suburbs. The Red Sea Mall consists of built area of about 242,200 square meters and that includes 7 storey office building, 5 star hotels, open & covered parking areas. All these areas are linked to the Mall's 18 entrances and thereby assist hassle free accessibility to the shopping mall.
An assortment of outlets
The Red Sea mall has opted for expert designers to offer all the needed services to its visitors and hence you can have a pleasant & memorable shopping experience. The Red Sea mall is a mixture of global as well as local brands and has diverse assortments of retail outlets, cafes, hotel, restaurants, entertainment areas, etc.
Kid's apparel
Some of the renowned children apparel stores where you can shop for trendy kids wear are blu, Guess kids, Dandoni, Gingersnaps, Mamas & Papas, Mother care, Zahar kids, etc.
Women Arabic outlets
A few of the well known stores where you can purchase conventional women Arabic dresses are Fancy design, Al Sultana, Black design, etc.
Unisex apparel outlets
Burberry, City max, Diesel, American Eagle, Denham's, are few of the renowned unisex apparel stores housed at the Red Sea Mall.
Jewel outlets
Some of the leading outlets where you can shop for the trendy jewellery are Desert Jewellery, Al Romaizan, Cartier, Fatimer Jewelry, etc.
Hotels & Restaurants
Elaf Jeddah hotel offers you the delicious Arabian cuisine and other Middle East recipes. Some of the other food outlets where you can dine for some lip smacking snacks are Applebee's, Baskin Robbins, Burger king, Bubble nation, Bostani, etc.
Opening hours
Saturday to Wednesday:From 10:00 AM to 12:00 AM
Thursday & Friday: From 10:00 AM to 2:00 AM
Contact Us:
Red Sea Mall
N. King Abdulaziz Road
Jeddah Saudi Arabia,
Tel : + 966 12 215 1551
E-mail : [email protected]
Comments
You must
login
to post comments.