Printemps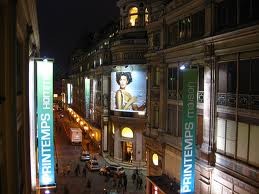 Printemps is a well-known departmental store situated in Paris' Boulevard Haussmann in the IX arrondissement area. The shopping mall focuses on lifestyle, beauty, accessories, men's wear and fashion.

The Printemps is spread on an area of 45,000 sq.metres. It is the biggest beauty departmental store on the globe exclusively devoted to luxury and fashion brands. From is terrace, one can have a panoramic 360 degree of the city of Paris.
The well-known boutique shop Maria Luisa boutique is situated at the hub of the woman store's second floor. Likewise well-known watch brand Omega ahs opened its outlet at Printemps. It is located on Printemps Haussmann Women Store's first floor.

The visitors are assisted by the Printemps by a multilingual host and hostess team right form Monday to Saturday from 9.35 am to 8 p.m.
For further info: Contact: +33 (0)1 42 82 57 87.

Comments
You must
login
to post comments.