Pleasure beach theme park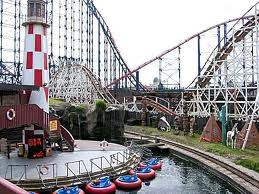 Pleasure beach theme park is located in Black pool, England. It is one of the most prominent tourist destinations in Britain. Initially, the park was started with one ride; back in the year 1896.I t celebrated its centenary celebration in 1996.
The Pleasure beach theme park is spread on an area of 42 acres. It boasts of more than 125 rides and attractions.
Some of the major attractions comprises of
Pepsi Max Big one: It is the highest roller coaster in the United Kingdom, with the peak height being at 213 ft. Arrow Dynamics constructed the roller coaster.
Infusion: It is a suspended looping coaster. It is the globe's first roller coaster to be constructed completely over water. It has five unbelievable loops and rolls with an additional double line twist all in a balanced looping coaster.
The park provides a wide range of activities right from the exhilarating white knuckle rides- the Big Dipper, the Grand National and the Avalanche to additional relaxing cruises about the Alice's wonderland and the river caves. There is also an interactive labyrinth especially mean for the kids.
The other attractions in the park are
Irn Bru revolution: It is the first fully inverted roller coaster in the world.
Grand National: A roller coaster with double tracked "Mobus Loop" racing.
Wild mouse: It is one among the left over wooden wild mouse roller coaster in the world. It was opened in the year 1935.
Big Dipper: It is a traditional roller coaster, which was constructed in the year 1923 and extended in the year1936.
Avalanche: It is a Mac bob sled coaster, the first and the only one present in the United Kingdom.
Address
525 Ocean Boulevard, Blackpool, Lancashire
0870 444 5566

Related News
Comments
You must
login
to post comments.