Panorama mall, Riyadh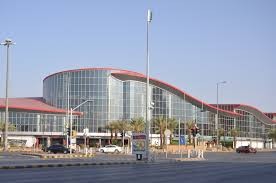 Panorama mall is a renowned shopping centre in the capital city of Riyadh. This exceptional architectural structure adds grace to Riyadh. Panorama mall is known for its peculiar engineering plan and its façade's panoramic sight that overlooks the Tahlia Street & Takhasosi crossroads.
Some of the renowned brands which you can visit
The mall accomodates a broad peculiar & renowned stores such as Danube Hypermarket, Water, Jarir Bookstore,Candy Oh, Hamleys, Lamborghini Cafe, Zara, Marks & Spencer, Rolex, Chopard,etc. The Panorama mall also houses an incredible large gaming station with a host of exhilarating & most recent games & rides. It also contains a good number of delectable restaurants.
A broad assortment of shops
The mall contains a wide ranges of stores such as retail, kidswear, men & women fashion, optics, jewelry, watches, electronics outlets etc.
Numerous well known brands to shop from
Some of the branded outlets which you can visit to shop for your preferable items are Tommy hilifger, blugirl,steiff, Albader Optics, Axiom, Hamleys, Armani Jeans, Whites Pharmacy, Nayomi, Al-Jazeera Perfumes, Al-Jazeera Perfumes, Durance, Tous, Swatch,Paris Hilton, etc
Entertainment
Panorma mall boasts of having a large entertainment centre in the region of "Metropolis" encompassing an area of about 7,325 sq.m. you can find a variety of electronic rides & toys of which the "Skating rink" is one of the most renowned one.
Dining
After endless hours of shopping & gaming you can relax yourself tasting some of the fines recipes at the delicious food courts such as McDonalds, Herfy, Jan Burger, Casa Pasta, etc.
Opening hours:
The mall is opened from 9:00 am till 12:00 pm and then from 4:00pm to 12:00 am
Contact details
Panorama mall Riyadh – 12222 – P.O. Box 2323 Al Ma`ather Al Shamali-Atakhasusi Street Tel.: +966-11-2814950, +966-11-2814948 Fax: +966-11-2815008 E-mail:
[email protected]
Comments
You must
login
to post comments.