To post your Indian Association, School News Please send your news details and images to
editor at abroadindians.com (replace at with @) and our editor will publish.
Orma Jewellerys 3rd showroom in Abbasiya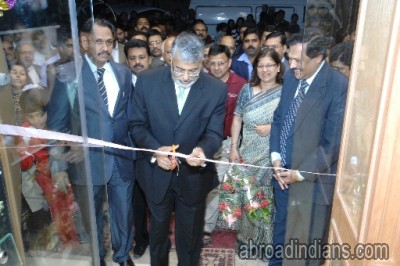 Unprecedented euphoria and pride reflected around, as people vied with one another to be the first to catch a glimpse of the 'Chenda Melam', reflecting the Kerala Culture in all its hue and ambience in welcoming all, which preceded the inauguration of Orma group's 3rd jewellery showroom. With each passing minute, the crowd kept swelling on this Friday evening, in Abbasiya.

The new showroom was inaugurated by His Excellency, Satish Mehta the Ambassador of India to Kuwait, accompanied by his wife, in the presence of eminent dignitaries and other business personalities, which was followed by fireworks.

The spectacular store showcased an exquisite collection of Gold with specialty in gift items for various seasons. Mr.s Preethi Mehta , wife of the Ambassador, presented the first sale to Dr. Narayana Nambuthiri, President – Indian Doctor's Forum.

The Orma group Managing Partner, Abey Varicad, shared that every customer could benefit from their new schemes, such as the Easy Gold-purchase scheme and the Gold-deposit scheme, to help offset the fluctuating high gold prices.

Gold being considered as one of the safest investment options today, easy Gold-Purchase scheme assures the customers of more value for their savings. In this scheme, the customer chooses a monthly payment of KD 10 onwards, and retains it for a period of 12 months. At the end of this period, customers has the flexibility of picking the jewellery of their choice from the Orma showrooms based on the value saved, which is a better return than fixed-deposits. Benny Payampalil from Orma group added that, as a part of convenience initiative, Easy-Gold Purchase makes the purchase easy, secure and value-added.

Event Gallery
Comments
You must
login
to post comments.