NPS International School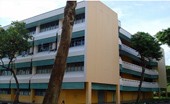 As a result of the growing global demand for good quality education in the background of a swiftly globalizing educational scenario, the NPS International School was established.
Headquartered in Bangalore, India, the National Public School has a good unassailable track record of produng 12,000 brillaint students annually.
In Singapore, the NSP International School is spread on a six acre sprawling campus at the Chai Chee Lane. It is in the East Coast near Bedok.
Contact details
NPS International School,
10 and 12 Chai Chee Lane,
Singapore - 469021 and 469022
Phone: +65-62942400
Fax: +65-64482089
Email:
Enquire for Admission - [email protected]
Enquire for vendors - [email protected]
Enquire for Fee - [email protected]
All other enquiries - [email protected]
Related News
Comments
You must
login
to post comments.