Mondeville 2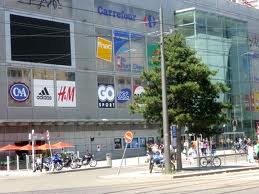 Mondeville 2 is a shopping mall in the Caen area of France. It is the biggest shopping center in the Basse Normandie area.
Promodes, a well-known French retailer group constructed the mall was opened to the public in the year 1995.Teh shopping center replaced its predecessor the Mondeville 1 (also called as Supermonde) built in 1970.
Mondeville 2 has a retail floor area of 60,000m2 Carrefour, a leading global hypermarket occupies nearly 12,000 m2 of the total floor area. The shopping mall also houses leading international brand outlets and also the UGC Ciné Cité cinema. The multiplex cinemas comprise of Darty, Décathlon and Conforama.
Some to the other main tenants in the mall are Toys R Us, Cafétéria Casino, Go Sport, Etam, Armand Thierry and Nocibé.
Trading hours
On Mon: From 9:00 am to- 11:00 pm
On Tue: From 11:00 am to 9:00 pm
On Wed & Thu From 8:00 am to 11:00 pm
On Fri & Sat: From 10:00 am to 11:00 pm
On Sun: From 1:00 pm to 5:00 pm
Address
14120 Caen, France

Comments
You must
login
to post comments.