Louvre museum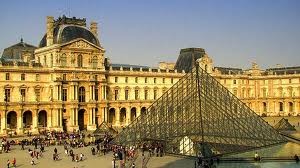 Musée du Louvre or just Louvre is one of the world's largest museums. It houses the most greatest art collections on the globe.The museum is situated inside the Louvre palace, which stretches to a distance of half a kilometer amid the rue de Rivoli and Seine. The palace was initially a fort constructed in the thirteenth century by Philippe-Auguste. A number of French kings continued the process of enhancing and beautifying the palace. A few of the even used the palace as their residence. In the year1793, the palace was opened to the public and from then the structure is utilized as a museum.

The awesome collection of Louvre comprises of drawings, paintings, antiquities, sculptures, coins, furnitures, etc.

The museum has more than 6000 paintings. You will be privileged to see the renowned paining of Leonardo Da Vinci's Monalisa. Some of other works you can see are the paintings of Michelangelo, Raphel, etc.

Some of other renowned artifacts housed at the museum are the Venus de Milo statue, the Human headed winged bull made up of limestone. The renowned Egyptian statue of the seated scribe from Saqqara made up of alabaster and limestone.

Visiting hours
On Mon, Thu, Sat, Sun, the museum is opened from 9.00 am to 6.00pm
On Wed, Fri the museum is opened to the public from 9.00adm to 9.45pm
The Museum is closed on Tuesdays.

Admission fees
The Admission fees for the permanent collection are €8.50.
The admission fee for the exhibitions at the Hall Napoleon is €8.50.
The combined ticket is €13

Address
Louvre museum
4 Place du Louvre
Zip code : 75001
Paris,- France
Ph. No: 01 40 20 53 17 et 01 40 20 50 50;
Bus/Metros to the Museum: Metro : Palais Royal Musée du Louvre
Bus : 24, 21, 39, 27, 68, 48, 72, 69, 81, 76, 95

Comments
You must
login
to post comments.