Le Bon Marché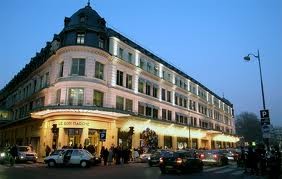 Le Bon Marché is well-known shopping malls in Paris., France. It is one of the most fashionable departmental stores in the city. Le Bon Marché is a shopper's delight offering a variety of products ranging from fashion items for women, men and kids, perfumes, cosmetics, .upscale presents, furniture and housewares.

Some of the stores found in the mall are the fashion shops like Yves-Saint Laurent, Chanel, and Dior, the designer and stylists like Stella McCartney, Miu Miu, Isabel Marant, Dries van Nooten, and Vanessa Bruno.

Le Bon Marché also has the credit of having biggest food halls in the capital. These food outlets offers the best yummy French cuisine varieties and the visitors can have pamper themselves with those dishes.

Opening hours
On Mon to Saturdays, the mall is opened from 9.30 am to 7pm
Address
Le Bon Marché
24 Rue de Sèvres 75007 Paris, France
01 44 39 80 00

Comments
You must
login
to post comments.