Kuwait Flight Simulation Center (KFSC)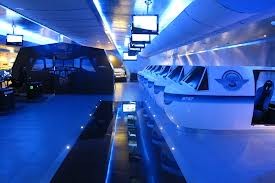 Kuwait Flight Simulation Centre (KFSC) is one of the popular entertainment centre in Kuwait city. It is the primary and biggest flight stimulation centre on the globe.
The first thing you will be instructed not take any electronic gadget inside the centre. Here you will come across flight stimulator which is a imitation of the actual flights. If you intend to be an young aspiring pilot,then KFSC is the ideal place where you can get inspired, build up, interrelate and improve your navigational skills.
At the KFSC, you will be guided by a captain and an air traffic controller instructor on how to activate and handle the stimulators .You will come across two modes of flight- the jet flight as well as the normal flights. In the jet mode your seat will be fastened to a joystick. Hence if the joystick is stirred, the jet will shift along with it.
In the normal mode, you need to land the plane which is somewhat a tricky task, but you will enjoy it. You can also watch as small movie that summarize the history of planes which were created prior to the successful Wright brothers. You will also know about planes were used in the World War I & II.
Once you finish watching the movie a quiz will be organized. All the questions will depend on the movie you watched.
On the whole is wonderful place to enjoy with your kids and family members.
Address
Kuwait Flight Simulation Center (KFSC)
Al Soor Street, Next to Ice Skating Rink, Discovery Center, Basement, Kuwait City
Phone : (+965) 22 913 700,701 to 707
Fax : (+965) 22 913 702
Email : info@kuwaitfsc.com, jetmax@kuwaitfsc.com, events@kuwaitfsc.com
Working Hours
Sat - Thu : 10am - 10pm
Friday : 2pm - 10pm
Comments
You must
login
to post comments.