King Abdullah Park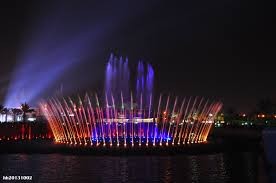 The king Abdullah Park is a renowned park in Riyadh named in honour of the late and popular emperor of Saudhi Arabia, King Abdullah. The park was established in the year 2003 by Prince Turki Bin Abdul Aziz, the Deputy Governor of Riyadh.
Location
This beautiful park is situated in the hub of Riyadh. It is spread an area of about 318,000 sq.m of which 150,000 sq.m are covered with greeneries.
Salient aspects
The park comprises of 5 entrances and also includes various gardens, Kids park, sports area, rest places for the family, seating areas, walkways, etc. The park also boasts of a 1700 sq.m restaurant.
Dancing fountain
Some of the other major attractions which you can witness and enjoy in this park are a huge lake, a dancing fountain equipped with the laser technology. The park also has a huge open space for organizing shows & events. A 37 m high Saudi flag post is another noteworthy feature to observe. There is also a special building meant for the VVIP visitors. The lush green lawns are real treat to your eyes. The maintained & paved footpaths serves as an exceptional place for walking, strolling, bike riding for the kids, roller blading, etc. The ideal time to visit the parks is during the eveningtime when you can watch the dancing fountain with full of action with a wide array of shades as well as laser colour. You purchase popcorns and other food items at the park entrance. You can also find a few sellers selling some novelty items for kids such as rugs, picnic chairs, etc.
Visiting hours
During winter the Park opened to the public from 1:00 pm to 11:00 pm During summer the park is opened from 3:00 pm to 12:00 am.
Entrance fees
For the adults the entrance fee is- 10sr For the kids (10 years old or above), the entrance fees is 5sr Free admission for the Handicap persons.
Address
King Abdullah Park Al Amin Abdullah Al Ali Al Naeem, Al Malaz, Riyadh 12836, Saudi Arabia
Related News
Comments
You must
login
to post comments.