James Joyce tower and Museum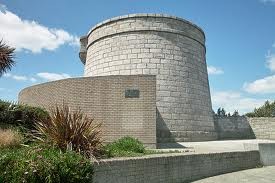 The James Joyce tower and Museum is a prominent tourist spot in Dublin city, is a tiny defensive fort (Martello tower) in the Sandy cove area of Dublin. The renowned Irish novelist and Poet, James Joyce spent 6 nights in this fort. The starting scenes of his Magnum Opus novel, Ulysses are based on some of his personal incidents that occurred in this Martello tower.

At present, the tower houses a museum devoted to James Joyce and it exhibits a few of his belongings and additional thins related to Ulysses( for instance a "Plum tree's Potted Meat's empty pot . It is a pilgrimage center for Joyce's aficionados particularly on Bloomsday. At the entrance of the museum, you can find a tiny bookshop, which has books written by Joyce and also books that briefs about him.

On the right side, you can find another tiny room, here you can find things used by the great novelist. You can find the uncommon editions, pictures and letters of the great writer.

On the first floor, you can find the room used by James Joyce for a few days. It is here the initial scenes of Ulysses were written. From the top of the building, you can have beautiful views of the surrounding landscape.

Opening hours
The museum is normally opened from 10am to1pm, and from 2pm-5pm.
On Sundays and on public holidays, it is opened from 2pm to 6 pm.

Admission tickets
Combined tickets (which includes visit to James Joyce Museum & George Bernard Shaw birth place) costs €11.50 for Adults, for Kids it is €7.50.

Address
James Joyce tower and Museum
Martello Tower, Sandy cove, Dublin, Ireland
Phone No: +353 1 280 9265
Fax: +353 (0)1 280 9265

Accommodation near James Joyce tower and Museum
Four Seasons Hotel Dublin
Four Seasons Hotel Dublin
Simmons court Road, Dublin, Dublin, 4 Ireland
Phone No: 01 665 4000

Related News
Comments
You must
login
to post comments.