To post your Indian Association, School News Please send your news details and images to
editor at abroadindians.com (replace at with @) and our editor will publish.
Indian Women's Association – lending a helping hand for the last 15 years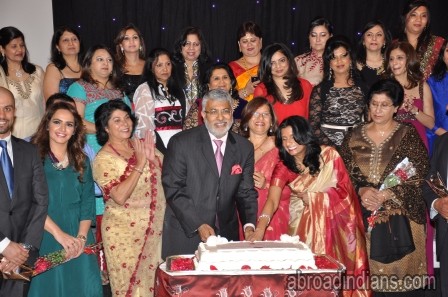 Indian Women's Association (IWA) Kuwait, the voluntary non-profit organization held its annual gathering at the Arraya Ballroom of Courtyard by Marriott recently. The event was inaugurated by chief guest, the Ambassador of India to Kuwait, His Excellency Satish C. Mehta, in the presence of a large number of dignitaries, IWA members, their families and well-wishers.

Speaking on the occasion, the Ambassador expressed his pleasure that the event was celebrating a good cause and would facilitate a range of humanitarian projects and community service initiatives being pursued by IWA. The ambassador highlighted IWA's dedication to bringing about positive change in the lives of individuals and communities by providing them with tools and resources to meet and overcome the challenges they face. Members of IWA, the ambassador stated, are at their best helping others to be their best.

Following the ambassador's speech, the patron of IWA, Mrs. Preeti Mehta, wife of the Ambassador of India to Kuwait unveiled 'Xtravaganza 2012', a book showcasing IWA's initiatives through the past year.

In her welcome address, Muriel Alphonso, President, IWA said, "Everyone dreams of a bright future filled with hope and promises but many of the less-privileged in society are often compelled to douse their dreams at a very young age due to circumstances beyond their control. Since 1998, IWA has been at the forefront of planning and implementing several humanitarian initiatives in India and Kuwait. With our motto of 'Lend a Helping Hand' we have strived to provide practical and sustainable solutions to some of society's entrenched problems".

In the last 15 years, IWA has positively impacted over 6,000 people through its different initiatives in Kuwait and India. At present they have about twelve different projects managed throughout the year covering three key focus areas that include supporting educational and medical requirements of individuals from low socio-economic backgrounds, raising awareness of health issues and giving of themselves by spending time and comforting those that need it.

The IWA president concluded, "However, sustaining and developing the projects we undertake and adding new projects every year has been no mean task. The fact that we could achieve so much in so little time is a tribute to the compassion and generosity of our supporters and well-wishers, as well as recognition of the dedication, engagement, and enthusiasm of our members."

This year the evening was supported by ELM and GFS General Trading and Contracting as Platinum sponsors, the Landmark Group as Gold Sponsors and Northern Gulf Trading Co. as Emerald sponsors. Al Ahli Bank of Kuwait, KGL Holding and Asia Electromechanical also participated as silver sponsors.

Event Gallery
Comments
You must
login
to post comments.