Indian School, Sur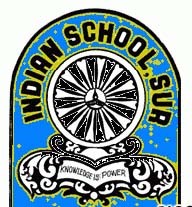 Indian School Sur was formed in the year 1989, to cater to the educational requirements of the kids of the expatriate Indian society. Indian School, Sur is an co-educational institution with English as the medium of instruction. This renowned educational institution is located in Sur's Eskekriah area encompassed by attractive mountains adjacent to the Mosque in a large well-ventilated region and has an enormous picturesque beauty. Indian School Sur is affiliated to the Central Board of Secondary Education and is endorsed by the Ministry of Education, Sultanate of Oman. The school at present has classes from LKG to X standard. Hindi is taught as mandatory 2nd language.
Objectives & Ideals
Indian School, Sur not only strives to impart quality education for all the kids but also attempts to expand the general personality of every student. This educational institution endeavours to make its children kind, affectionate, sociable, broad-minded, self dependant so that they transform into honest citizen prepared to face the life challenges.
Contact details
Indian School, Sur P.O.BOX NO 158 POSTAL CODE 411 SUR SULTANATE OF OMAN - Office 25542665, 0096825546128 emaili:
[email protected]
,,
Related News
Comments
You must
login
to post comments.