Indian School Muscat Oman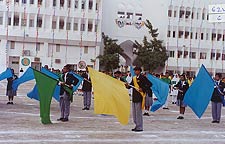 Indian School Muscat, since its inception has grown steadily with a purpose. From humble beginnings in the year 1975 with 135 children the school today is the largest co-educational institution in the Gulf with over 7610 students.
The Indian School Muscat expresses a deep sense of gratitude to His Majesty Sultan Qaboos Bin Said, the benevolent ruler of the Sultanate of Oman. It was His Majesty's magnanimous grant of land in Darsait that enabled the school to be established.
It was the vision of our first patron, His Excellency the late Nirmaljit Singh, the Ambassador of India, the dedication of Mr. Kanaksi Gokaldas Khimji, the first President of the Management Committee that made ISM a living, breathing reality.
Indian School Muscat is more than a premier educational institution. It is a community linchpin, one that bears a special bond with the cross section of people. ISM is the flagship of all the Indian Schools in Oman. It has played a significant role in nurturing other schools during their early stages of development. It continues to provide administrative and academic support for all Indian Schools in Oman.
The Patron of ISM, the Ambassador of India, the Board of Directors, the Management Committee, the Principal and a well-qualified staff are instrumental in offering the community a host of services that are essential for all-round education.
The Indian School Muscat is affiliated to the Central Board of Secondary Education, New Delhi, at the Secondary (Std.X) level and at the Senior Secondary (Std.XII) level. It conducts the All India Secondary School Examination at the end of Class X and the All India Senior School Certificate Examination at the end of Class XII.
The school is under the sponsorship of the Embassy of India in the Sultanate. Recognised by the Ministry of Education it is supervised by the Department of Private Education, Sultanate of Oman.
Contact
Address:
P.O.Box 2470, P.C 112, Ruwi, Sultanate of Oman
Phone: Darsait
(00968) 24702567 / 24707567 / 24799568 / 24709607
Jibroo
(00968) 24711117
Fax:
(00968) 24794919
Email:
ismoman@omantel.net.om
Web:
www.indianschoolmuscat.com
Related News
Comments

MOHAMMED KAREEM
(Guest)
- Mar 26
I would like to enquire about availability of seats in your school for Grade 6,5 & KG1 for my children as we are currently resident of UAE and want to move to Oman on new employment.

Thanks & Regards,
Mohammed Kareem
You must
login
to post comments.