Indian Public School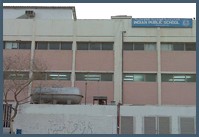 Indian Public School, a gateway for educational brilliance understands that each kid has a peculiar talent and it requires the right environment to exhibit it. This renowned education institution attempts to stimulate the intelligent, physical, emotional and divine progress for a holistic advancement towards life. The institution creates an ideal learning atmosphere for the kids with the assistance of highly enthused teachers, pioneering academic tactics and suitable l infrastructure which facilitates it students to explore, ascertain and foster their concealed treasure.
Academic vision
Indian Public school endows complete faith in the notion of activity dependent knowledge. Instead of playing the role of a preacher, their highly qualified teachers play the role of facilitators of learning and imbibe quality teachings, morals in the minds of the kids.
Contact details
Indian Public School is located on Amman Street, opposite to Al Rashid Hospital. You can contact Indian Public School via the following telephone numbers: Telephone - (+965) 25630249 (+965) 25630342 Fax - (+965) 25637360 You can also contact the school via its Postal Address PO BOX: 1589, Hawalli Code 32016, Kuwait You can email the webmaster at
[email protected]
Related News
Comments
You must
login
to post comments.