To post your Indian Association, School News Please send your news details and images to
editor at abroadindians.com (replace at with @) and our editor will publish.
India International School proves Again in CBSE Class X Exams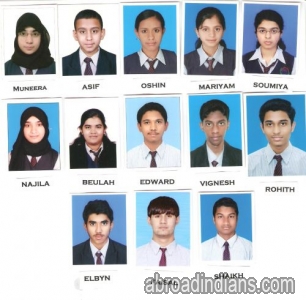 India International School proves Again in CBSE Class X Exams
India International School once again has proved itself by securing excellent results at Secondary School Examination conducted by CBSE, Delhi, India.
This was the 5th batch of the Secondary School since 2006 when the first batch of class X appeared, and the school has maintained its tradition of 100% result. It is not only hundred percent results but a qualitative improvement too from year to year.
Thirty students appeared this time and four of them secured 90% and above. Miss Muneera the topper of the school has scored A1 in all subjects except English where she scored A2. Her CGPA is 9.8. Master Asif Lukman secured second position by getting 9.4 CGPA whereas Miss Oshin Jose and Miss Maryam Kanchwala secured third position by getting 9.2 CGPA.
The school success Story began in 2006(first batch of class X) with the topper Zafrul Haq scoring 80% in aggregate and then in 2007 it was Prateek Chitnis who scored 83%, in 2008 it was Sachin Govindankutty who score 87% and in the year 2009 Rinu Antony made a big jump with 93% aggregate.
Miss Muneera has carried it further in this year scoring CGPA 9.8. Tremendous achievement, isn't it? The graph has been constantly on the rise with qualitative improvement every year which is evident from the short success story of India International School. Bravo and hats off to the students, staff and the Management.
Well done IIS students and teachers. Keep it up!
Comments
You must
login
to post comments.