To post your Indian Association, School News Please send your news details and images to
editor at abroadindians.com (replace at with @) and our editor will publish.
INDIA INTERNATIONAL SCHOOL CONDUCTED STUDENT COUNCIL ELECTION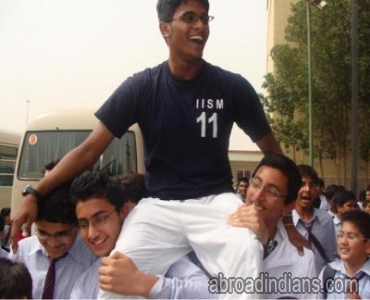 India International School, Mangaf conducted Students Council Election on Thursday the 29th April 2010.
The elections were held peacefully and in the spirit of Democracy. Twenty one candidates were contesting election for different posts.
There were four polling stations for different voters. The polling Officers took charge of their booth at 7:30 a.m. The returning officer Mrs. Naliny and the Asstt. Returning officer Mrs. Sreeja Arun made all the arrangement of the polling. The Ballot Boxes, the ballot Papers, Voters lists and all other necessary stationery were supplied at the polling Booths.
The polling started from 8 o' clock and continued till 11 o' clock. All the voters i.e the students of class VI to XII exercised their power to vote. Those who were voting first time were waiting eagerly in the lines for their turn.
For the staff members there was a separate polling booth as they were also included in the voters list. It was a wonderful scene at the polling booths where voters came with their voter card given by their class teachers.
The counting of votes began at 12:30 in the presence of chief Election Officer, Returning officer, Asstt. Returning Officer and the agents of the candidates. The Kindergarten teachers were the counting officers and they did their job well.
The results were declared by the CEO Mr. Balasubramanian at the special Assembly at 2:10 p.m.
The following students were elected for the year 2010-2011 Students Council.
Minhajuddin - Head Boy, Ibrahim Abdul Rahim - Deputy Head Boy
Asma Moideen - Head Girl, Muneera Mohammad - Deputy Head Girl
Jithin S.S. - Sports Captain(B), Jim Pothan Johnson - Deputy sports Captain(B)
Laxmi Godara - Sports captain(G), Shafna - Deputy Sports Captain(G)
The Investiture ceremony will take place on Wednesday the 5th May 2010.
Event Gallery
Comments
You must
login
to post comments.