Eiffel Tower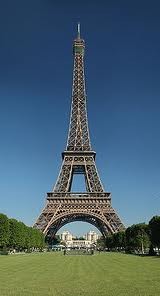 The Eiffel tower also called as the La Tour Eiffel in France is a lattice tower, made up of wrought iron and is situated at Paris' Champ de Mars. The tower was constructed in the year 1889 and has become the France's golden symbol. It is the loftiest tower in Paris and is the most frequently visited place in the country.

You will find the tower standing at a height of 1,063feet (324m) equivalent to the height of a building with 81 storeys.
Ever since its construction in the year 1889, the tower has witnessed above 200,000,000 visitors, a record high of 6,719,200 spectators visited the tower in 2006.

Climbing the Eiffel tower

By means of stairs: With the aid of the staircase, you can get to the first and the second stages of the tower. But you need to climb 1,652 stairs, individual with vertigo problem should not climb the tower.

By means of elevator: You can use the elevator, to shuttle between the first and the second stages of the tower. For security purpose, only one or two elevators will be operated. You need to take a spare elevator, if you want travel from the second floor to the top floor, where you and have a fanatastice aerial view of the city.

Restaurants and Gift shops in Paris
You can find two restaurants in the tower, on in the first and second level respectively. Le Jules Vernes, the restaurant situated on the second level provides an awesome, spectacular view of Paris.

You can find gift shops at the ground, first and second floors, where you can purchase gifts and souvenirs. You can also get traditional French food at the specialty food shop located on the second level.
Opening hours
The Tower is open to the public from 9.30 am to 11.pm.
The Elevator is opened from9:30 a.m. to 11:45 p.m. (10.30 pm top floor, concluding ascension 11.00pm)
Stairs: It is opened from 9.30 am to 6.30pm, (6.00 pm is last admission)

Address
5, Avenue Anatole France
Champ de Mars
75007 Paris, France
Ph. No: +33 I 44 II 2323
Accommodation near Eiffel tower
Shangri-La Hotel,
10 avenue d'Iéna
75116 Paris
France
T: (33 1) 53 67 19 98
F: (33 1) 53 67 19 19


Comments
You must
login
to post comments.