Dublin Castle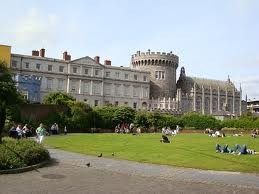 The Dublin castle is a major tourist destination in the Irish capital of Dublin. It is located in Dame Street. Up to 1922, the Dublin castle serves as seat of British rule in Ireland. Currently, the castle functions as the main complex for the Irish government. Other than the State functions, the castle is normally open to the public

Some of the main room which you can visit in the castle

St.Patrick's Hall
You can find this room as the most magnificent room in the castle, it boasts of having one of the most salient ornamental inferiors .You will come to know that the room was formally utilized as the ballroom by the administration of Lord Lieutenant, at present the room is utilized as venue for the inaugural functions by the President... It is one of most antique room in the citadel and has the most momentous Vincenzo Valdre's painted ceilings. St.Patrick's Hall served as venue for the state dinners. On May 18, 2011, the President of Ireland hosted dinner in honor of the visiting British Monarch, Queen Elizabeth II. , on May 18, 2011

Throne room
You can also visit the Throne room. You will come across a throne used by King George VI, when he came to Ireland in the year 1821.


The Chapel Royal
Francis Johnston designed this gothic revival structure. It is well-known for its vaulting, engraved oaks, excellent plaster embellishment. Some of the notable aspects you can witness are Justiciars'coat of arms, and beautiful interiors.

The Garda (Police) Museum
It is housed in the thirteenth century Norman 'Record Tower'. It served as a jail for the state prisoners. Architect Francis Johnston, in 1813, reconstructed the upper segments and included battlements to match the adjacent Chapel Royal. At the time the Chapel was the under erection.

The Revenue Museum
The Revenue Museum is located in Chapel Royal's crypt and provides attractive and entertaining insights into the lengthy record of the compilation of the duties and taxes in Ireland.

Some of the displays you can find in this museum are inter-active smuggling games, stamping equipment, video footage of counterfeit goods and alcohol duty assessment, etc.

Some to the other rooms you can visit in the castle are the State Drawing room, State Dinner room, State Bedrooms, state corridors, The Chester Beatty Library, etc...

A number of films were shot at Dublin castle. You can find the castle featured in films like Michael Collins, Barry Lyndon, The Medallion and Becoming Jane

Opening hours
From Monday to Saturday the castle is opened form 10.00 - 16.45hrs.

Admission fees
For Adult, the admission fees is: €4.50
For Student & Senior Citizen, it is €3.50
For kids (below 12 years of age), it is €2.00

Address
Dublin Castle
Dame Street, Dublin 2, Ireland
01 645 8813
Fax No: +353 1 679 7831
E-mail: dublincastle@opw.ie

Accommodation near Dublin Castle
Mercantile Hotel
28 Dame Street, Temple Bar, D2 Dublin , Ireland
01 670 7100

Related News
Comments
You must
login
to post comments.