Disneyland Resort in at Anaheim, California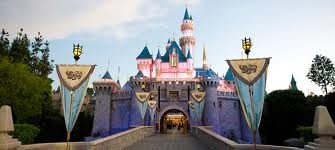 The Disney land theme park is a favorite park among thousands of Americans, as well a number of international tourists. It is an awesome park, which witness an annual inflow of 20 million visitors. In the year 1955, Walt Disney opened the park.
The park has a number of attractions.
The visors can slide throughout the skies, on the grand ride Soarin's Over California, or they can discover Hollywood's vine side, by taking a thrust down on the twilight zone tower of terror. The kids can ride on the Monsters, Inc. Mike & Sulley to the Rescue and visit Monstropolis' streets. On the Toy Story Mania, the kids can have fun by playing games on the woody and the Buzz.
The visitor can also ride the Silly Symphony Swings.
Silly Symphony Swings:
In this ride, the visitors can a distinctive view of the Disney California Adventure Park. For a short time of a one and half minute, the visitors' feet will sway in the air about the tower, which is pinnacled by the Maestro Mickey himself. As the middle tower minimizes upwards, the shorted painted scenes on the tower of the ride, will alter, from motionless to storm
"The Band Concert"
The characteristic short Mickey Mouse cartoon short, "The Band Concert" inspired the ride, "The Band Concert". It was released in the year 1935, and it features frazzled Mickey attempting to carry out an outside orchestra as Do anal Duck becomes a type of Pied Piper, guiding the strings off course with his flute to score a more nationalistic song.
Park hours
10.00 am to 9.00 pm.
Guest Information
There is a recorded, automated customer service system, the visitors can call in this number
(714) 781-4565
Hotel Reservations
(714) 956-MICKEY
(714) 956-6425

Mailing Address:
Disneyland Resort
P.O. Box 3232
Anaheim, CA 92802-3232

Parking Address:
Mickey & Friends Parking Structure
1313 S. Disneyland Drive
Anaheim, CA 92802


Comments
You must
login
to post comments.