Delft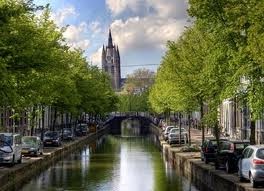 [Delft is a municipality and metropolis located in the Zuid-Holland (South Holland) province of Netherlands. It is situated amid Hague and Netherlands. The town is renowned for its beautiful canal and is also the birthplace of famous painter Vermeer. Some of the historical monuments you can see are

Oude Kleark
Oude Kleark is an Old church, where famous personalities like Dutch painter Johannes Vermeer, Dutch navel hero & Folk hero Pieter Pietersen Heyn, Scientist Antonie van Leeuwenhoek are buried.

Hugo Grotius statue
You can also witness the statue of eminent Dutch Jurist Hugo Grotius created by Franciscus Leonardus Stracké in t year 1886. It is situated on the matket adjacent to the Nieuwe Kerk.

The Prinsenhof
You can also visit thee Princes' Court (The Prinsenhof), presently a museum. You can also find a compilation of Dutch Golden Age paintings.

City hall
You can also visit the city hall. It is a beautiful structure built in Renaissance style. It previously served as the seat for of the city government. At present you can find the local residents conducting their weddings at City hall.

Léger museum
The Royal Dutch Army Museum (Koninklijk Nederlands Legermuseum) is presently the state museum for the Dutch army Here you can find some artifacts pertaining to the Dutch army.
Delftse Hout lake
The Delftse Hout lake (kwnon as the "("Delft Wood") is another prominent tourist destination in Delft. It has a small forest with beautiful lake.

Her you can indulge in recreational activities like horse riding, walking, bike riding, windsurfing, swimming, etc.

Accommodation at Delft
Hotel Leeuwenbrug
Koornmarkt 16 - 2611 EE Delft
Nederland - Europe
Tel: ++31 (15) 2147741
Fax: ++31 (15) 2159759
E-mail [email protected]

Comments
You must
login
to post comments.