Crescent English high school Dubai
: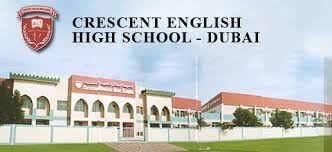 The Crescent English high school

is a renowned institution in Dubai, UAE. It provides quality education, inculcating moral values in the kids and strives to transform them into good & dutiful citizens. The School offers the most exceptional education to as many kids they can. In a family based surroundings, the school offers personalized caring. Curriculum The School is affiliated to the Central Board of Secondary Education (CBSE) New Delhi, and the Government of Tamil Nadu has accredited it. The Ministry of Education, Dubai has approved the institution. English is the medium of instruction. Tamil, Hindi and Malayalam are language options. As part of the curriculum, the school cultivates life skills. Facilities The school is well equipped with the state of art amenities such as library, spacious class rooms, computer & science lab, playground, etc. On the whole, the students join the institution as crescent and leave school as Full moon. Address CRESCENT ENGLISH HIGH SCHOOL P.O. Box: 923, Al Qusais, Dubai, U.A.E., Tel: +971-4-29 888 66 , Fax: +971-4-29 882 99 E-mail:
[email protected]
[email protected]
Comments
You must
login
to post comments.