Aziz mall, Jeddah
Ex: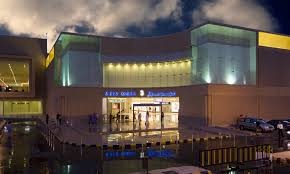 One of the prominent destinations in Jeddah is the Aziz mall. It is situated in a thickly populated area. This 2 storey mall contains a hypermarket and a numerous brand outlets. The mall also house big entertainments, and food outlets like Starbucks & Seattle's best. The mall provides a lively and peculiar upscale shopping, dining and entertainment for the entire family.
Fashion outlets
The mall houses men's fashion outlets like Giordano, Samuel & Kevin. Bossini, Fashion queen, Livaa are some of the Ladies fashion outlets where you can purchase trendy wears for your spouse. Shops like Reemas kids, Gap kids, Carter, Monsoon kids, Ginger shops, Pumpkin patch, Orchestra offers trendy collection for your kids . You can also look for the latest jewelry at Damas & Al Romaizan.
Entertainment area
The mall has 2 entertainment areas Billy bees (meant for the kids), Sparky's (intended for the entire family). Both these places are filled with exciting games & rides.
Address:
Prince Majed Street Al Faysaliyah district, Jeddah P.O Box: 126359 Jeddah 21352 Kingdom of Saudi Arabia Telephone: +966126162222 Fax: +966126162230 Email:
[email protected]
Opening hours
From Sunday to Saturday Stores opened from 10:00am to 11:30pm Hyper Panda opened from 9:00am to 1:00am Food court opened from 10:00am to 1:00am Entertainment opened from 10:00am to 1:00am On Fridays Stores opened from 5:00pm to 11:30pm Food court opened from 2:00pm to 1:00am Entertainment opened from 3:00pm to 1:00am Hyper Panda 9:00am - 1:00am
Comments
You must
login
to post comments.