Atallah Happyland Jeddah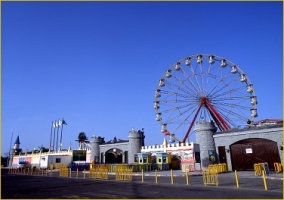 Atallah Happy Land is the largest privately owned recreational and family entertainment center in Jeddah, Saudi Arabia.
The AHL Management is always a step ahead in upgrading its facilities by introducing the latest technologies equipment and the newest, most innovative rides.
Thus AHL is maintaining its position as one of the top leaders in this field. Atallah Happy Land also provides extra facilities and services such as the large Game Room, the Children's Theater, a Supermarket, a Cafeteria and RTW Shops.
Below are a few of the main features of Atallah Happy Land:
Rides
: Atallah Happy Land is equipped with more than 60 rides. To ensure the greatest enjoyment by its visitors and to ensure the safety of the smaller children, the park has separate rides for adults and children below a certain age. Rides are designed and engineered with all the necessary safety measures and regulations, and regular checks and thorough maintainence is done by properly-trained staff to uphold the high safety standards the park has.
Computer Games
: Atallah Happy Land has introduced advanced game facilities for all age groups. Computerized game machines and other advanced high-tech systems makes Atallah Happy Land the first name for family entertainment in Jeddah.
Children's Theater
: Children's Theater offers a wide range of attractive films that cater to a younger audience. Atallah Happy Land keeps up to date with the hottest trends in the market and takes special care to show films that children of all ages would love.
Supermarket & Cafeteria
: To make the visit more pleasant, the park provides a cafeteria to meet the needs of the hungry children and parents after an active, fun filled day. A supermarket is a supplementary facility the
park provides. The supermarket is well stocked and offers a wide range of products to choose from.
RTW (Ready-to-Wear) Shop
: As a family entertainment center, AHL set up various show rooms that have a large variety of fashionable dresses in stock. This showroom facility is open for all visitors and the most of the shops sell the newest, designer wear.
Contact
Corniche
Jeddah, Jeddah
Saudi Arabia

Telephone :6691157
Related News
Comments
You must
login
to post comments.