Al-Khozama International School, Dammam
: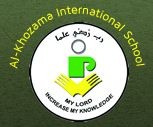 Al-Khozama International School is a leading education institution in the city of Dammam The school pursues the courses recommended by the CBSE (Central Board of Secondary Education), New Delhi and approved by the Ministry of Education, KSA.It is part of the group of Educational instution administered by the Peevees Group Of Schools, Kingdom of Saudi Arabia. The other 3 institutions being Al-Yasmin International School, Riyadh, Al-Mowhiba International School, Jeddah.and Al-Wurood International School, Jeddah &The Al-Khozama International School, was founded in the year 2005. At present it has about 1250 students and about 150 teaching & non-teaching staffs. In the year 2007, the Al Khozama International School got affiliated to the CBSE for commencing class up to standard XII. Apart from the National Curriculum, this education institution from the year 2010 has formally commenced CBSE curriculum for the Grades I and II.
Vision & Mission
This school has become outstanding education communities encouraging individual excellence.
Mission
The school aspires at high criterion of attainment by means of the sophisticated amenities & procedures.
Build awareness with the all the stake holders' vigorous contribution
Cultivates collective & family values in the students.
Assists in holistic growth of kids as expressively smart academically skilled, communally responsive, morally stable & proficiently capable comprehensive citizens.
Curriculum
The School provides a curriculum that is intended & developed by the NCERT ( National Council of Educational Research & Training), New Delhi and moulds the students for the All India Senior Certificate Examination( at the conclusion of Grade 12) that is organized by the CBSE ( Central Board of Secondary Education), New Delhi, India.
Amenities
The school is equipped with all the modern facilties like playground, library, auditorium, science lab, robotics (think lab), language lab, etc.
Contact details
Al-Khozama International School, Dammam P.O. Box 76706 Al Khobar 31952 Kingdom of Saudi Arabia Tel : 03 8475112 , 8475113 Fax : 03 8470542 Ext . 102 Email:
[email protected]
.
Related News
Comments
You must
login
to post comments.