Al Rawdha Recreation Park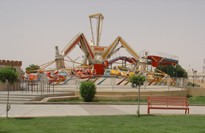 Al Rawdha Recreation Park is a renowned and exceptional amusement park where your kids can have utmost entertainment. This well known park contains loads of amusement activities. The park is situated on Riyadh city's eastern parts in the district of Rawdha encompassing a region of about 70,000 sq.m. This famous park's design & equipment is renowned for its "brilliance, assortment & variety. You can indulge in variety of entertainment activities like taking part in the rides, playing, outdoor & indoor games, and proactive games. You can also watch and enjoy the recreation shows conducted at the indoor theatre. Various festivals, events, symposiums are also organized at the open roof theatre in which you can take part and have a memorable time. The striking landscapes soothe your tired nerves and keep you in a rejuvenated and serene state.
Opening hours
Morning schedule: opened from 8am to 11am Evening schedule: opened from 4pm to 12 midnight.
Address
Al Rawdha Recreation Park Riyadh Eastern of the city, Arrawda Street, near the exit (11) Post Office Box: 5500 Riyadh 11422 Saudi Arabia Tel: - 00966 (11) 2323999 Ext: 400 OR 401 Fax: - 00966 (11) 2377642 Email: –
[email protected]
Related News
Comments
You must
login
to post comments.