Al Nakeheel mall, Qassim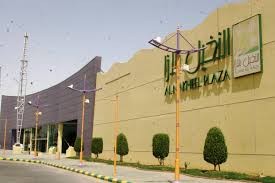 The Al Nakeheel mall is a popular mall in the Al qassim region, the most prosperous region in Saudi Arabia. The Al Nakeheel mall comprises of a varied array of local as well as international brands, different kinds of cafes & restaurents, children play area, etc.
You can come across a varied assortment of fashion outlets, eyewear, cosmetics & perfumes, bookstore, Jewelry & watches, hypermarket, sports leisure, Department store, Gift & toys, Telecommunication & electronics, entertainment, etc.
Some of the renowned brands you can find at the Al Nakeheel mall are Ajmal, Anotah, Aldo, Axel, bossini, city max, exe, faces, Femi 9, Jennyfer, Red Tag, Sony, The beauty Secrets, Zara, Cindrella, Cardial, City max, Fun time, Feel free, first show, Promod, Prando, Sensi, Socks Collection, Small Shoe, Swatch, etc.
Some of the food outlets where you can taste some delicious recipes are KFC, MC Donalds, Mama Rotti, Cinnabon, Thai Fast food, Herfy, Herdeez, etc
Other available amenities
Other facilities accessible at the mall are Wifi services, ATMS. Wheel chairs, strollers, customer service desk, ATMs, baby changing stations, camera surveillance, etc
Opening hours
From Sunday to Wednesday
Stores opened from 9:30am to 12:00pm & 4:30pm to 11:30pm
From Thursday to Saturday
Stores opened from 9:30am to 11:30pm
On Fridays, Stores opened from 4:30pm to 11:30pm
Food Court opened from 9:30am to 11:30pm
Entertainment centre opened from 4:00pm to 11:30pm
Hyper Panda opened from 9:00am - 11:30pm
Contact details
Telephone: 00966163852504
E-mail: [email protected]
Address
Al Safra, Buraydah
P.O. Box: 341904 Qassim 11333
Kingdom of Saudi Arabia
Comments
You must
login
to post comments.