Al Hamra Tower Mall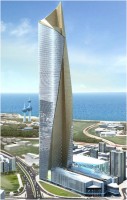 Al Hamra Tower Mall is a popular shopping mall in Kuwait city. It is a marvellous lofty structure which serves as a commercial complex consisting of health club, offices and a high-end shopping mall. The mall also houses food courts and theatres. Standing at height of 1353 ft, the Al Hamra mall is the tallest structure in Kuwait. You can enjoy awesome views of Kuwait city while shopping or dining at any of the delicious restaurants. You can find the tower's commercial space comprises of 5 storey retail mall which stretches over 250,000 sq.ft area. You can enjoy shopping at the some of the most exclusive stores like Vera Wang, Hermes, Versace Café, etc. You can also chill at the mall's spa and gyms. Your kids and family members can enjoy looking at the beautiful musical fountain found at the plaza exterior to the luxury centre.
Fashion outlets
A few fashion outlets which you can visit are Harry Winstone, Yves Saint Laurent, , Kate spade, Hermes, Carolina Herrera, Bottega Veneta, Samsonite, , Mont Blanc, Al Jazeera perfumes, Mouawad Jewellery, Eden Park, , Karloff, Beidoun, Chanel, Officine Panerai, Vera Wang, Shoebox, L' Argentinaamong, Behbahani luxury, etc.
Restaurants
A few delectable restaurants and sweet stores where you can tickle your tastebuds are Chocolate Italiani, Versace Cafe, Le Sushi Bar, Gucci cafe, French Le Relais de l'Entrecote, Melenzane Elevation Burger, Chocolate Bar, etc
Address
PO Box: 2248 safat, 13085, Kuwait Email- info@alhamra.com.kw Tel-(+965)1829000 Fax: (+965)22233050
Comments
You must
login
to post comments.