Al Alia International Indian School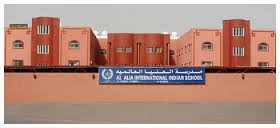 Al Alia International Indian School, Malaz, Riyadh is a renowned education institution that meets the utmost criterion of academic training.
Profile
Al Alia International Indian School is determinedly dedicated to provide quality and moral based education to the kids and groom them into good citizens. This education institution adopts a widespread syllabus for the development & enlargement of a kid's persona. The school considers in cultivating the student's approach & viewpoint which are essentially global & modern. Simultaneously the school provides utmost importance & significance of Indian cultural inheritance and ensures that all its students are aware of their roots, origin through co- curricular actions.
Inception
This renowned education institution was started in 2003, by Mr Thomas Chandy, a Philanthropist & educationist as a contemporary progressive notion English medium institution. The school got relocated from Azizia and currently it is working from its new premises situated at Malaz. At present the school is accommodated in large premises and is well equipped the most sophisticated infrastructure.
Studies scheme
From Class LKG to XII, CBSE Syllabus is followed In Plus Two Level Science & Commerce streams followed
Amenities
Its infrastructure consists of large corridors, sufficiently ventilated class rooms, air conditioned auditorium, Computer for the junior as well as the senior students, art room, well stocked library , music hall, an audio-visual activity room, sufficiently equipped Maths, Biology, Physics & Chemistry labs, exterior courtyard for playing Volleyball, Basketball, and other major sports. The school also has interior amenities for playing Roller Skating, Table Tennis, Yoga, Karate, Gymnastics & other sports
Contact Address
AL ALIA INTERNATIONAL INDIAN SCHOOL P.O. Box 281025, Riyadh - 11392 Kingdom of Saudi Arabia Telephone: 4128884, 4128885 Fax: 4128883 Email:
[email protected]
Related News
Comments
You must
login
to post comments.