Aden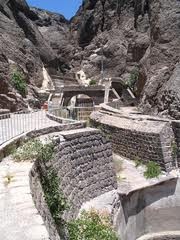 Aden is a Seaport city situated by the eastern approach to the Red Sea (the Gulf of Aden).
The city boasts of a number of tourist destiantions like the Sira Fort, Cisterns of Tawila, The Palace of the Sultanate of Lahej/National Museum, The Zoroastrian Temple, The Zoroastrian Temple, The beaches of Aden and Little Aden.
The Cisterns of Tawila: It is one of the well-known historic sites located in the city of Aden. A chain of tanks in varying shapes and capacity are located in this site. Thee tanks were constructed to gather and hold the rain water that comes from the Shamsin massif via Wadi Tawila. The cisterns also help in protecting the Aden city from periodic floods. A total of 53 cisterns were present, but now only thirteen tanks exists due to frequent renovations carried by the Bruisers in the nineteenth century. The present tanks have a combined capacity of almost 19 million gallons.
Sira Fortress: This is an 11th century fortress, which is presently used by Yemen as its military base. Most of its history remains bleak. Its initial construction was believed to be done by a Turkish king by name Prince Othman Al-Zangabili Al-Takriti, who ruled Aden.
Related News
Comments
You must
login
to post comments.