Abudhabi Mall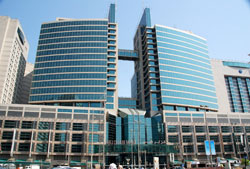 Abu Dhabi Mall has over 220 outlets showcasing international and local brands comprising children, women and men's ready-to-wear, make-up and perfumes, music, books and stationery, soft furnishings, household furniture, electrical goods, gifts, health-food, pharmacies, dates and confectionary, sportswear and shoes, in addition to the city's preferred grocer, the Abu Dhabi Co-op.
With over 200 shops and upwards of 25,000 visitors a day, restaurants on every floor, a children's play area and a Cineplex, this is more than just a shopping destination. Look out for big-name outlets like Paris Gallery (perfumes, cosmetics, sunglasses, handbags and jewellery), Jashanmal, Grand Stores and Salam Stores (all department stores).
Abu Dhabi Mall is located in the Tourist Club Area (TCA) on the Second Street (2nd St.) Sector 1-94, and is only a few minutes' drive from any part of the city.The drive from Abu Dhabi Airport to the Mall will take between 25 to 40 minutes (30 Km) depending on traffic condition.
Operating Hours
Sat to Wed 10 am – 10 pm
Thursday 10 am -- 11 pm
Friday 3:30 pm -- 11 pm
Telephone : +971 2 645 4858
Web:
www.abudhabi-mall.com
Related News
Comments
You must
login
to post comments.