Abu Dhabi Indian School, Al Wathba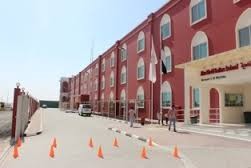 The Abu Dhabi Indian School, Al Wathba is the primary annex of the Abu Dhabi Indian School located in Muroor.
The Abu Dhabi Indian has a created a niche in the Abu Dhabi's educational segment right from its modest beginnings in the year 1975.
The budding commencement of this Abu Dhabi Indian School branch occurred on 4th September, 2014 under the futuristic guidance Dr B.R.Shetty, a recipient of the Padmashree award. He also serves as the Abu Dhabi Indian School Management Committee chairman. The school was established over an extensive area of about 34,500 sqm and is outfitted educational prospect for the 3,450 students.
This renowned educational institution offers a flexible & a transformative educational ambience. The Abu Dhabi Indian School, Al Wathba boasts of having a team of extremely qualified tutor who cheer and support the students to discover the new educational experience an mould them to be positive in planning the educational programmes'
Vision
The vision is to study, explore & inspire
Curriculum
The school adopts the Central Board of Secondary Education (CBSE), New Delhi and is endorsed by the ABU DHABI EDUCATION COUNCIL, UAE.
Facilities
The school is equipped with all the modern amenities like transport, auditorium, well maintained science & computer laboratories, playground, etc.
Address
Abu Dhabi Indian School, Branch 1
P.O. Box 79803,
Al Wathba, U.A.E.
Tel : 009712-5831991, Fax : 009712-5831992
Email : [email protected]
Related News
Comments
You must
login
to post comments.