Tower Bridge, London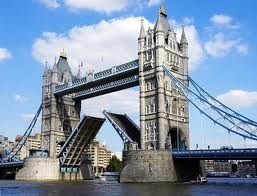 A prominent landmark in London is the tower bridge. It is one of the most renowned bridges on the globe. It was constructed in the year 1954, over the river Thames and is next to the tower of London. About 50 designers and architects participated in a completion to design the tower bridge of London. It is a collective bascule and suspension bridge in London. The bridge is regarded as London's iconic symbol. The bridge is also colloquially called as London Bridge
The total length of the bridge is 244 meters (801 ft); the greatest span of the bridges is 61 meters (200 ft) .The Bridge is maintained by the British house estates, a charitable trust established in the year 1282.
From the bridge, visitors can visualize the Victorian Engine rooms and the high level walkways. You can also have access to the bridge lift schedule, which illustrates dates and times, at what time the bridge will rise for larger ships.
Address
London Boroughs
London
Accommodation near London bridge
Hilton London Tower Bridge hotel
5 More London Place, Tooley Street, London, United Kingdom SE1 2BY
Tel: +44-203-002-4300
Fax: +44-203-002-4350

Related News
Comments
You must
login
to post comments.