Singapore Night safari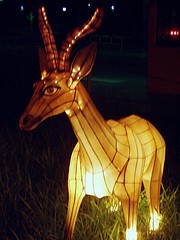 Snatch the chance to take your family for the Singapore night safari tour right through the midst of the jungle. In the security confines of your tram you can have a glimpse of the nocturnal animals ranging from fierce predators to shy animals You also have the facility of taking a night stroll with the help of your guide and witnesses the animals in close quarters. At the Ulu Ulu Safari restaurant, you can also have the choice to enjoy your night dinner.
The world's primary nigh time zoo safari leads you all the way through some forty hectares of secondary tropical forest. The jungle is next to the Singapore and it is improved by delicate moon glow lighting. After dusk the jungle's anonymity and drama comes into existence. While travelling through the safari, you will come across a large reservoir, and will pass through habitations especially intended to imitate he natural surroundings ranging from the foothills of the Himalayas to the south East Asian forest and the Indian subcontinent.
Some of the aspects to be known
A night tour by tram at the award winning night safari.
Optional dinner at the Ulu Ulu safari restaurant
During a guided trail walk, you can have a close observation of the animals
You can have the facility of hiring an English speaking guide
To visit the Singapore zoo, you can have the facility of air-conditioned transport.
Departure point
From major hotels in Singapore, the tour departs. Also the tour departs from Sentosa island not including change village hotel and Crown plaza changi airport hotel.
Departure time
The visitors will be picked at 6.00 pm for a 6.30 pm departure.
Duration of the night safari tour is approximately 4 hours
Return information
The visors are dropped at the same original point at 10.30 pm approximately
Admission fee

Admission fee (Inclusive of Tram ride)
For Adult: $32
For Child: $21 (3-12 years old)

For 3-in-1 Park Hopper
Jurong Bird Park, Night Safari and Singapore Zoo (Includes tram ride at Night Safari)
For Adult: $58 (you can $12)
For Child: $38 (form 3 to 12 years old) (you can save nearly $8)
*Terms & Conditions apply.

For 2-in-1 Park Hopper
For Jurong Bird Park and Singapore Zoo
The Adult fee is: $32 (saves $6)
For Child: it is $21 for kids from 3 to 12 years old) (saves $4)

Night Safari and Singapore Zoo or Jurong Bird Park
For Adult: it is $42 (saves $10)
For Child it is: $28 (3 to 12 years old) (saves $6)
*Terms & Conditions apply.

Other Features
Family-friendly, Disabled access, Tours & Trails

Address
80 Mandai Lake Road Singapore 729826
Phone (65) 6269 3411

Related News
Comments
You must
login
to post comments.