National Museum of Korea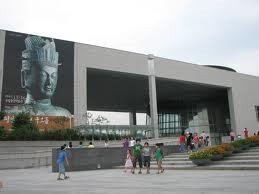 The National Museum of Korea is Korean art and history's flagship museum. It is the cultural representation of Korea. The national museum was set up in the year 1945, and is dedicated to several research activities and learnings in the area of history, art and archeology.

The museum boasts of having a total collection of 220,000 pieces and ahs on display some 13,000 pieces. There are 6 permanent Historical Gallery, archaeological Gallery, Donation Gallery, and Asian Art Gallery, Fine Arts Gallery I, and Fine Arts Gallery II, housing a variety of artifacts and relics. In terms of floor area, the National Museum of Korea occupies the sixth slot in the world. The museum is spread on a total area of 1,480,000 sq ft (137,201 square meters).

Around 4500 artifacts kept on display at the archeological gallery. You can come across 9 display rooms at this gallery; they are the Neolithic Room, Paleolithic Room, the Proto Three Kingdoms Room, the Bronze Age & Gojoseon Room, the Baekje Room, the Goguryeo Room, the Silla Room and the Gaya Room. You can find a variety of artifact starting from fragmented hand axes made of stone to comfortable traditional royal decorations. All these exhibited relics reveal the fact that the premature settler has undertook a lengthy journey in expanding their own exclusive civilization.

Opening Hours
The museum is opened on Tuesdays, Thursdays, Fridays from 9:00 to 18:00
On Wednesdays, Saturdays from 9:00 to 21:00
On Sundays and on Holidays from 9:00 to 19:00
The museum is closed on every modnay and on Newyear.
Address
National Museum of Korea
135 Seobinggo-ro, Yongsan-gu, Seoul 140-026, South Korea
02-2077-9000

Accommodation near the museum
Park Hyatt Seoul, Seoul, South Korea 5.0 of 5
995-14 Daechi 3-dong, Gangnam-gu, Seoul 135-502, South Korea




Related News
Comments
You must
login
to post comments.