Melbourne Zoo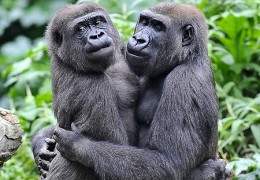 The Royal Melbourne Zoological Gardens popularly known as Melbourne zoo houses more than 320 species of animal, both native and foreign. The zoo is situated at a distance of 4 kms from the hub of Melbourne. It can be reached from the Royal Park station and can also be reached by means of tram routes 19 and 55.

Some of the exhibits in the zoo.
You will be welcomed by five Asian elehants including two baby elephants.
Tropical and colorful butterflies can be found at the Butterfly house. Visit the Orangutan sanctuary, where you can find the Sumatran, Sumatran-Borneo Orangutans and Slamang family.
The Oriental tiny clawed Otters, Sumatran tigers and 2 small Asian birds' aviaries can be found at the Asian forest.
You can have a tête-à-tête with the Kangaroos; lace monitors wombats, emus, echidnas, koalas, and an array of tiny bird aviaries.
At the Savannah, you will be welcomed by dwellers like, ostrich, Giraffes, and helmeted guinea hen.
You can find four male lions, lodged at the Lion Park.
At the wild sea, you can rub shoulders with friendly seals, small penguins.
Opening hours
The zoo is opened on all days from 9am to 5 pm.
Address
Melbourne Zoological Gardens
Elliott Avenue
Parkville VIC 3052
mz@zoo.org.au
Ph: 9285 9300

Accommodation near melboutne zoo
Grand Hyatt Melbourne
123 Collins Street,
Melbourne, Victoria, Australia 3000
Tel: +61 3 9657 1234 Fax: +61 3 9650 3491
Email: melbourne.grand@hyatt.com

Related News
Comments
You must
login
to post comments.