To post your Indian Association, School News Please send your news details and images to
editor at abroadindians.com (replace at with @) and our editor will publish.
Lulu Exchange expands into Kuwait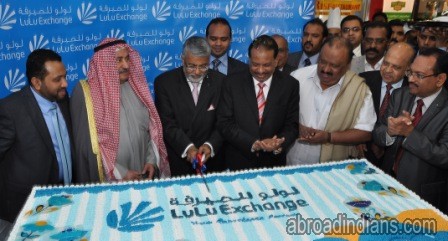 With the currency market witnessing a huge surge in activity and cross border remittance on the raise, Lulu Exchange, an associate of the multi-national retail conglomerate has opened its operations in Kuwait. Launching its 4th branch, Lulu Exchange has plans to further consolidate in the Kuwaiti market by opening 10 branches by the year end. The new branch in Lulu Hypermarket at Al Rai was inaugurated by Sheikh Ali Al Sabah Al Naser Al Sabah – Member of the Royal Family, presided by Chief Guest H.E Satish Mehta, the Ambassador of India to Kuwait and Mr. Yusuffali M.A, Managing Director of Lulu Group. Prominent dignitaries from Banks, Financial Institutions, and the Media were present.

Talking to media, Yusuffali M.A said "The Lulu brand enjoys considerable brand loyalty and patronage among the large cosmopolitan population residing in the Middle East region and we intend to cash in on the brand equity to gain substantial market share in the retail financial services sector.

Speaking to the media Indian Ambassador H.E Satish C Mehta commented that customers can now conveniently do their financial transactions and shopping under one roof. He applauded Lulu management for their efforts in bringing new products and services for the benefit of their clientele.

Strategically located in the prime business sector of Kuwait city and nearby suburbs, Lulu Exchange offers a range of product and service to cater to the demands of locals, expatriate and corporate customers. Services include Instant money transfer, Bank transfers, Demand Draft issuance, and Retail and Wholesale Bank notes, Western Union and so on. These financial services are also offered in UAE, Oman and India through associates.

"We are delighted to open our new branch in Lulu Hypermarket at Al Rai, Kuwait, and follow our Chairman's vision of being closer to our customers rather than bringing them to us. To serve a larger section with new financial products and services, we plan branch expansion covering major area of Kuwait like Murgab, Mahboula, Farwaniya, Mangaf to name a few", said Adeeb Ahamed, CEO.

Event Gallery
Comments
You must
login
to post comments.