Kimberly (Western Australia)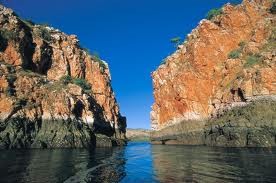 Kimberly is one of the nine areas in Western Australia. The Indian Ocean borders it on the west, on the north side on the west it is bordered by the Timor Sea. .The place got prominent after the discovery of the Kimberly diamond fields.
The place is abundant with rich flora and fauna. A number of national parks are located in Kimberly like the Purnululu National Park, Geikie Gorge National Park, Tunnel Creek National Park, Mirima National Park, Mitchell River National Park, Point Coulomb National Park, Windjana Gorge National Park and Wolfe Creek Meteorite Crater National Park
Purnululu National Park: The place has the famous sandstone domes. In the year 2003, it was declared as a World heritage site.
Geikie Gorge National Park; The park ahs rich flora and fauna. The flora includes pandanus, freshwater mangroves, and cadjeput and native figs. The flora spread along the River Gums' fringes. The fauna comprises of the reed warbler, fruit bats, lilac-crowned wren, and the great bowerbird.
Other places to see are the
Lake Argyle: a dam is built across the Ord river
Mitchell falls: It ahs the Mitchell falls and it is a beautiful place for bush walking, and for camping.
To get there
You can fly or you can take a bus to Derby, Broome, or Kununurra and from there you can take a vehicle on rent.
Accommodation
You have a lot of motels, hotels. You have the El Questro Luxury Resort Tel: 1300 863 248

Related News
Comments
You must
login
to post comments.