CANADA'S WONDERLAND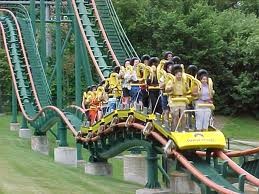 The Canada's wonderland is the most famous theme park in Canada. This park is popularly called as the wonderland. Ever since the year of 1981, the park has attracted millions of tourists every year. The park has also to its credit of having a 133ha (330 acre) water park and more than 200 rides. The Roller coaster buffs can get enjoyment from the 15 different kinds of roller coasters present in the park.
The tourists are sure to enjoy the Canada's only 'flying coaster" called as the Time warp. In this, the visitors will ride with their face down and it gives them a lifting and flying sensation.
Behemoth, the country's largest, greatest and loftiest rollercoaster carries the visitors to a height of nearly 70m (230 ft) and then drops down at an 85 degrees angle.
The movies giant Paramount Pictures bought the theme park in the year 1994 and the movie themed rides were introduced to the park. Some of them are the Flight Deck, the country's only inverted coaster, and is christened after the topgun movie. There is also another roller coaster like the Back Lot Stunt Coaster, which was produced from a car scene depicted in the 2003 released "The Italian Job" movie.
There is also an 8 ha (20 acre) water play ground called as the Splash works water park. It has 16 water slides and it ahs more than 2 million gallons quantity of heated water. The water park ahs a number of high speed slides like the Plunge, Super soaker and the Black hole.

Location: Canada's wonderland is located at a distance of 30 km of north of Toronto in the Vaughan Ontario.
Address
Canada's Wonderland
9580 Jane Street
Vaughan, Ontario L6A 1S6
Guest Inquiries (905) 832-8131

Related News
Comments
You must
login
to post comments.