Aqua Boulevard Water Park, Paris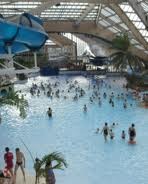 The Aqua Boulevard is the biggest water park in Paris. It is indeed the Europe's largest indoor water recreational water park. The aqua boulevard has attractive tropical environs. The air and water is kept at a 29 degrees Celsius for the whole year.
The water park is a suitable for all ages for fun and enjoyment. It has a tennis court, squash court, fitness centre, a fully fledged gym, etc.
The recreational water also has outer swimming pools, a grassy spot for sunbathing and a beach. The park is stretched on an area of 7000 square meters.

The water park also boasts of a 14 screen cinema complex, seven restaurants. One restaurant overlooks the swimming pool. It is a fantastic one and provides delicious dishes.

The aqua boulevard has some fantastic water slides. You can attempt on some of the water slides such as the Aqua turbo and Aquaplouf.
In pool there is also a wave machine that generates waves and is a good sight to look at. Also located are some refreshing and exquisite Jacuzzi to take pleasure in.

The fees for enjoying at Aqua boulevard come around 25 euros, though it is bit high, it is worth paying. The place is also a good place for the children; however, kids under the age of three are not allowed to enter inside the Aqua Boulevard.

The water park is opened in all seven days in the week. On week days it is opened from morning 9am to evening 9 pm, and at weekends, it is opened from 8am to 9 pm.

Contact Address. :
Aqua Boulevard
4 to 6 Rue Louis Armand
75015
Paris
France
Telephone: 1 40 60 10 00

Related News
Comments
You must
login
to post comments.