Majlis Ihya'u Sunnah Kuwait - MISK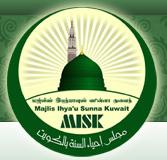 Organizing Al-Quran, Hadiths, Shari'a & Fiqh Classes
Enchanting with Islamic Special Activity Programs for Ladies & Children
Establishing Madharasa Classes i.e. Teaching Al-Quran & Fiqh for Kids
Moralizing Islamic Awareness thru Website and SMS
Presenting Islam to the Brothers & Sister of our Tamil Commune and Instigating Islamic Da'awa
Arranging to issue FREE Islamic Weekly / Monthly Pamphlets, & Multimedia (such CDs)
Launching Islamic Library with Islamic Multimedia (Audio/Video CDs), Books in Tamil
Arranging Grand Programs to deliver a Special Speech (Lecture) by Well-known Ulama (Scholar/s)
Establishing "DAR AL-SADAQA" to support Poor & Needy, Orphans and Disabled persons
Pledging to respect & observe the Honor & Holiness Of Al-Quran & Hadiths and sustaining the regards of the Pious
Sahabah's, Taa'be'ens, their followers, Great Imams, who devoted themselves for the sake of Islam.
Contact Information
Telephone:
+965 55130271
Email: q8_misk@yahoo.com
Web:
www.q8misk.com
Related News
Comments

Abdul Rahuman
(Guest)
- Mar 27
You are doing well, at the same time i need quran tharjuma and translation in tamil seperately and Shahih Buhari and Muslim too. Expect a fruitful reply to namuhar@gmail.com or +94718194966
You must
login
to post comments.